Looking for the perfect gift for cigar lovers? You've definitely come to the right place. Here we will be talking about the perfect gift ideas that a cigar aficionado will surely go crazy about.
We understand how hard it is to find gifts for your loved ones, especially this time of the year. So we wrap it up for you to at least save you from the stress of finding gifts this holiday season.
Whether you are planning on buying for a loved one or yourself, here are our top choices. So, let's get into it!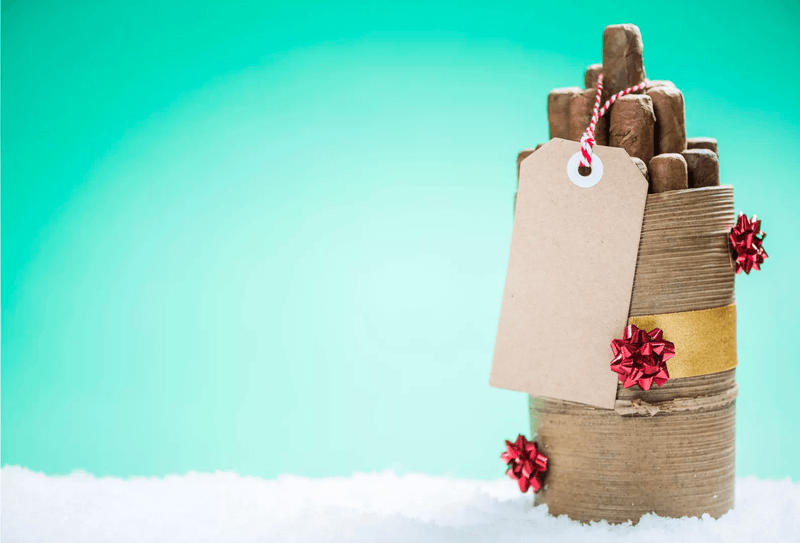 What to Give Cigar Lovers This Christmas
Always know that when we came up with this list, we had the best interest of all cigar lovers in mind. So make someone's Christmas this year merry by putting some, if not all, of these items in their stockings.
Sampler Pack
If you know someone who just started smoking cigars, then giving that person some cigar samplers is the way to go. It's the best option to be able to try different brands or when new cigars are made available in the market. These different selections of cigars come in a resealable pack or a set with a wooden box.
Sampler packs are the best way to help someone out who can't decide on which particular stick to get. But a selection of samplers is not only for the novice. Even an experienced cigar smoker will benefit from this one. There are even sampler packs that come with a humidor. So who doesn't like the idea of receiving such a gift, right?
Most cigar sampler packs also cover different flavors and aromas. From the mildest one to the one with the strongest taste and smell. There are also sampler packs in which the cigars are from a single producer only. So the choice is all up to you and to the preferences of the cigar lovers that you are about to give gifts to this Christmas.
Beginners, in particular, will get the chance to try different varieties of cigars with this one. Whereas experienced cigar smokers will have the chance to get into the world of a particular cigar producer.
Ashtray
Once you find the best variety of cigars that you want to smoke, there is no way not to find the best ashtray that matches it.
Cigars need to burn evenly and be left that way. Otherwise, you will miss having the best cigar smoking experience ever. Finding an ashtray that is made especially for cigars will then help you in getting the most out of your cigars.
Ashtrays available in the market are mostly built only for cigarettes. Also, it is very less likely for anyone to hold his cigar the entire time he is smoking it. And of course, you can't just put it on a flat surface in between puffs. That is why cigar lovers should have their own ashtrays that will make their hobby more convenient.
Ashtrays for cigars are shallower compared to the ones for cigarettes. The rim is also wider, as well as the notch. This makes balancing your cigar on the ashtray a lot easier.
An ashtray made of hardwood will make a great gift idea. It looks elegant while at the same time durable. If you haven't tried using one, you can also buy one for yourself and experience it first hand.
Wondering where to get one?
Big Chicken Cigars is a local store in Marietta, Georgia where you can find the finest CBD, vape, and cigars. We also have a vast inventory of smoking gear such as electronic cigarettes and electronic liquids. We even have hookah tobacco and hookah parts. So come and visit us one day and we will gladly show you around the shop.
Butane Lighter
Butane lighters give cigars of any kind the most natural burn. If you also want a clean light like you are using a match, a butane lighter is also the way to go. So even if someone you are about to give presents to this Christmas already has a lighter, they will definitely not say no to this.
Cigar lovers usually have several lighters at home, and getting them a butane lighter this holiday season to add to their collection is always a good idea. A butane lighter is also very handy that it will be easy to carry around.
Cigar Holder
A cigar holder is for those who want to enjoy their cigar but doesn't want the strong smell of tobacco to stay on their fingers. It's the best way to keep your hands smelling fresh and clean while still enjoying your cigars.
Cigar holders made of wood are also very classy and presentable to give as gifts this Christmas. They are perfect to put inside the Christmas stockings or to be added to starter packs and gift sets.
Looking for an awesome gift for cigar lovers in your life this holiday season? Now know where to get these gifts from. A trusted store will never fail you in getting premium quality products for your loved ones.
Where to Get Gifts for Cigar Lovers
The best part of being a cigar lover is the fact that you've got plenty of options to choose from. From the different brands of cigars to a variety of smoking tools and accessories, this hobby will always give you something new to try.
Putting this list together may sound very easy but we actually put all out hearts into it. We made sure that it will add value and fun to your cigar smoking experience. No worries. These gift ideas are perfect both for beginners and experienced cigar lovers. And the best place to get these gifts from is at Big Chicken Cigars.
With such a list of gift ideas for cigar lovers, we are pretty sure that you will be able to like at least one. If you fell in love with these ideas yourself, then much better. And the easiest way to get your hands on these items is to give us a call.
Let's talk!